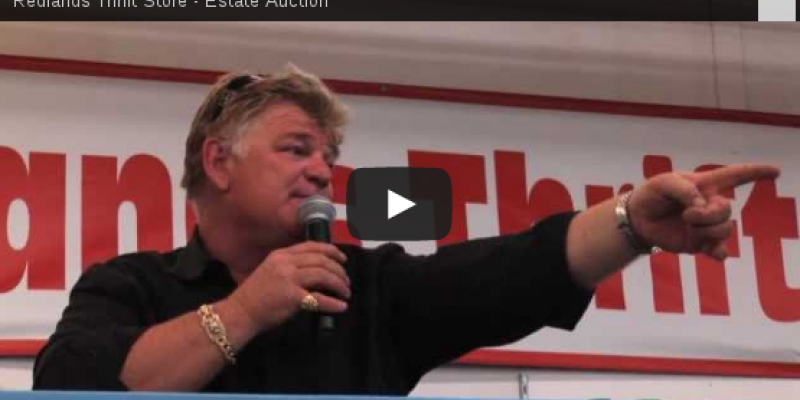 Redlands Thrift Store - Estate Auction
Live auction with Dan Dotson from American Auctioneers and as seen on the hit show "Storage Wars".! $100 cash deposit required if you plan to bid. all sales are final everything is sold as-is where-is with no warranties implied. no returns or exchanges, 10% buyers premium will be added to your bid amount. Credit cards will be accepted as a form of payment for and additional 3% charge. Phone bids will be accepted with a 20% deposit. THE SALE CAN BE PREVIEWED FRIDAY MARCH 23RD FROM 9AM-7PM. Absentee bids may be left for those you are unable to attend. Four or five items will have low reserves to protect the seller and keep the bidders honest. Armed guards will be on site to make our customers feel secure and comfortable. for more details visit www.americanauctioneers.com "calendar of events or www.theredlandsthriftstore.com "special auction" or call 909-793-6470 or email REDLANDSTHRIFT@AOL.COM
Sale Description:
Saturday, March 24th at 12:00pm. This auction consists of a little of everything including very high end items appraised over $250,000. Most of the items were from an undisclosed celebrity's estate. Some featured items are $57,000 Electra Motorsports electric style racing karts(similar to K1), $38,000 in arcade games, Robert Sonneman, George Kovac, Ferrari tractor,1994 Mazda Truck, Inflatable Boat, 2 golf carts, $10,000 pearl river piano, Basketball autographed by "showtime" Los Angeles Lakers such as Magic Johnson, Kareem, James Worthy, Michael Cooper, Pat Riley, Kurt Rambis, leather/designer furniture, 2 Plazotta bronzes (appraised $2,500 each), (rare) Antokolsky Russian Bust Butterfields estimates at $9,000-$13,000,Retro, Gold silver ivory and designer jewelry including a 30.5 gram 18k gold hour glass with diamond chips and a 4 ounce Tiffany sterling cup, nice comic/Marvel/ and autographed collection, Spiderman Lithographs signed by Stan Lee, X-Men Lithograph signed by Alex Ross and Dave Cockrum, Signed Star Wars Poster, Signed Gladiator movie script, Signed Bart Starr photo, antiques, weapons, collection of paintings including $2,500 Peter Max and $4,000 Linda Le Kinff, Mid-Century Modern, great furniture, Antiques, Heywood Wakefield, Knoll, Barcelona Style, Autographed memorabilia, $20,000 in electronics, professional home theater systems with projection screens and the works, pool table, $3400 Air Hockey table,flat screen televisions, Lots of TMZ worthy personal celebrity photos films parties letters etc, Disney Memorabilia,. These are just a few "featured" items. There is approx. 400 lots Must see!!! Keep in mind the photos don't do the sale justice you need to see for yourself. This sale will not be beat by any other in a long time we guarantee that!!! Will be a little bit of everything and something for everyone. Antiques, Vintage, Designer, Mid-century,tons of Chinese rugs and Japanese block prints, karin jonzen, enrique jolly, Tiffany,Modern, Old, New, Indian baskets and rugs, High End, you name it we got it. cancel your plans for the 24th because this is where you need to be. If you are not at this sale you will regret it!!